DYSPLA VR tour
DYSPLA_CuratesXR
18th-20th May 2023 Royal Standard Liverpool
20th January 2023 Carse and Waterman, Stoke-on-Trent

5th December 2022 Borough Road Gallery London South Bank University, London

3 October 2022 Fore Street For All, Fore Street Living Room Library, Edmonton
22-24 July 2022 XR Installation for Mayor of London Liberty Festival



DYSPLA curates a collection of digital arts and VR work by world renowned Disabled and/or Neurodivergent artists, inc. Lindsay Seers, D-fuse & George Jasper Stone at various locations around England, inc. Mayor of London's Liberty Fetsival, South Bank University & The Royal Standard.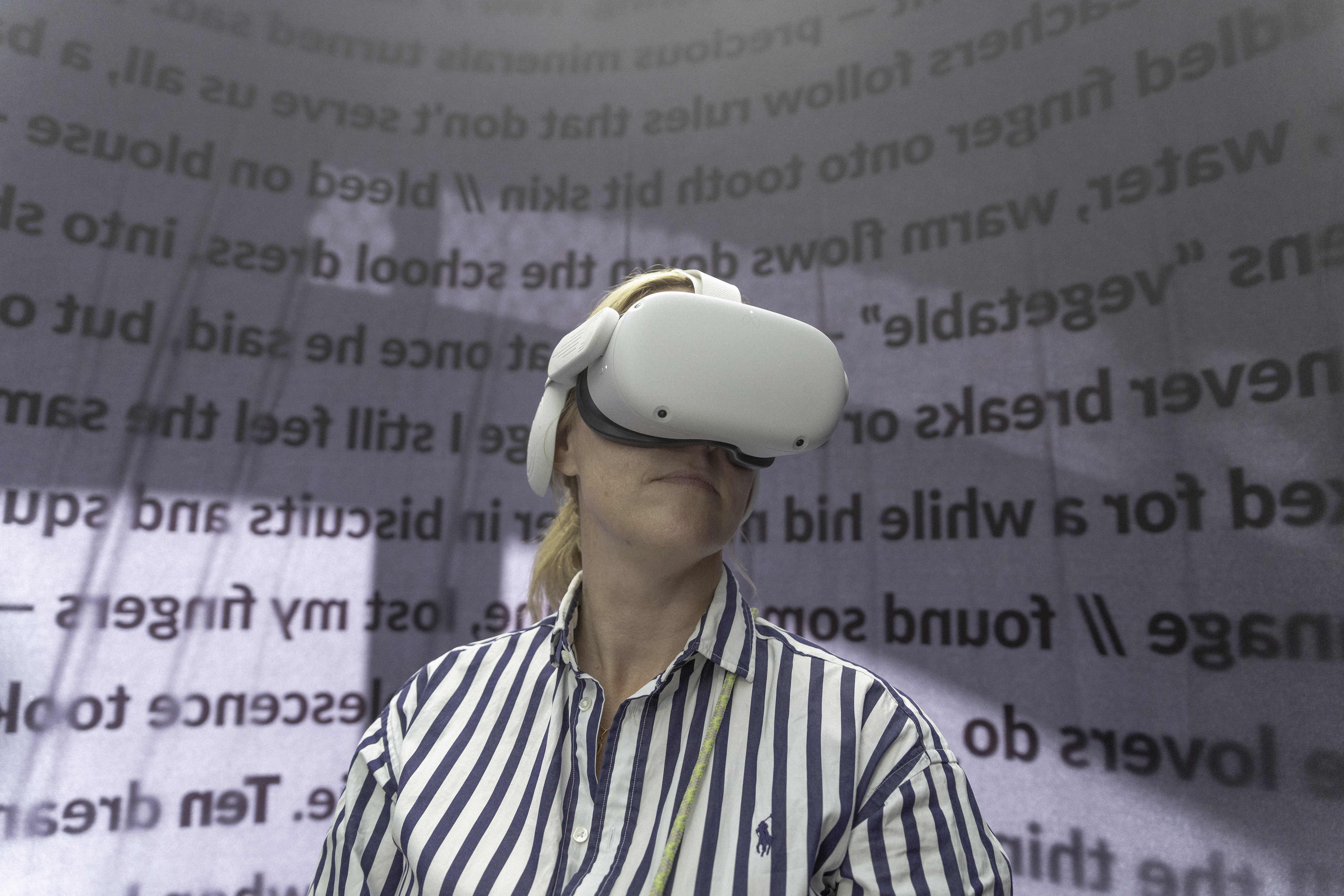 While DYSPLA is conducting research into the 'Neurodivergent Aesthetic', this collection will exhibit the terms of the burgeoning aesthetic paradigm.

Lindsay Seers / Keith Sargent
The works of Seers/Sargent are in a number of collections including Tate Collection; Arts Council Collection; Government Art Collection; Artangel Collection; Collection of MONA, Tasmania; Museo del Barro, Paraguay; MTA Collection, Lebanon; Sharjah Art Foundation Collection; Rugby Art Gallery Collection. They have won several prestigious grants and awards such as the Sharjah Art Foundation Production Award; Le Jeu de Paume production award for the Toulouse Festival, France; the Paul Hamlyn Award; the Derek Jarman Award; AHRC Award; a number of Wellcome Trust Awards, Arts Council and British Council Awards.
WORK: Care(less) (2019) is a highly original immersive 360-degree VR film by British artists Lindsay Seers & Keith Sargent. The work uses the hallucinatory quality of VR technology to convey an embodied experience of what it is to be in an ageing body. This OPCARE artist commission responds to new research by the University of Birmingham, University of Brighton and University of Lincoln, supported by the Wellcome Trust Enrichment Fund, into the experiences of older people receiving care they pay for themselves.


D-Fuse

D-Fuse

is a collective of audiovisual innovators working with environmental storytelling. Founded by neurodiverse artist Mike Faulkner in the mid-1990s, D-Fuse has worked across a range of media and art forms, including VR/XR, immersive installations, experimental film, animation, and live AV performances. Recognised as one of the pioneers of VJ-ing and early adopters of new technologies, D-Fuse has collaborated with researchers, institutions and musicians, including Immersive Media Lab/USC, Recombinant Media Labs, Cranbrook Academy of Art, University College London, Steve Reich, Beck, Hauschka, Scanner, and Swayzak, among others. Mike has exhibited internationally, including British Film Institute (2021), Prix Ars Electronica (2009), and Mori Art Museum, Japan (2008), among others.


WORK: Intersection - w/ Observatory - Audio: Gauthier Keyaerts (2020) The nature of time is mysterious. Intersection is a VR experiment that invites you to drift around London and partake in detached observations. The experience takes you to places governed by historical resonance while simultaneously delving into the sites of temporal patterns. This psycho-geographical journey reveals zones within the city, letting you explore the fabric of London's urban spaces.


Natalia Skobeeva
Natalia Skobeeva is a neurodiverse artist, whose hybrid experimental practice explores how ideas of particular and universal are re-negotiated by humankind in crises, mediated by technology. She is a graduate of MA Fine Art, Royal College of Art, London, UK. Recent shows: Wrong Biennale/Arebyte Gallery 2020, VideoBrazil, Suoja festival, Finland 2019, Deptford X, The 6th Taiwan International Video Art Exhibition, Taiwan, 10th Shiryaevo biennale, Russia, Rencontres Internationales festival Berlin/Paris, LUMINOCITY biennale, Canada 2018, Manifesta 11, LOOP festival Barcelona 2017, Tenderflix, Bristol Biennale, Vision in the nunnery 2016, 4th Moscow Biennale of Contemporary art, 15th WRO Media Art Biennale, Retrospective of 'Now&After' video art festival among others.


WORK: True Stories of Two Mormots (2019) – During the COVID-19 lockdown, Natalia has collaborated with her 6 year-old daughter on a script for a VR project. The script pictures the experiences of a fictive species within their (un)familiar environment and explores the difficulties that Natalia faces as a neurodiverse artist, an immigrant, a female, and a mother, with the input from her daughter and her own perspective. The sound or the ancestral world was created in collaboration with a tonal (throat) singer and a shamanic drummer. The work is kindly supported using public funding by the Arts Council England Develop Your Creative Practice grant.
George Jasper Stone
George Jasper Stone is a digital artist based in London, UK. Their practice is often collaboratively based, working with musicians, artists, live performance, contemporary dance, set design, photography, installation, fashion print and graphic design. They propose alternative virtual spaces which often call on participation into worlds that interlink fantasy and reality. Their work is often characterised by constructing digital scenes which transcode data from physical environments to digital experiences. They aim to create a dialogue to accessible, detailed and fantastical semiotics.
WORK: Save Yourself (2022) – A reference to decorative sculpture through the lens of queer intimacy, Save Yourself (2022) is a video artwork / digital sculpture by artist George Jasper Stone. Focusing on the uncanny the work uses photorealistic image rendering to mix past, future and fantasy.


DYSPLA
DYSPLA is a Neurodivergent-led, award-winning arts studio producing and developing the work of neurodivergent storymakers, supported by the Arts Council England. Conducting research into the Neurodivergent Aesthetic while exploring the mediums of Script Development, XR (VR, 360º Film, AR, MR), Moving Image, Photography, Poetry, Theatre & Installation, DYSPLA continues to elucidate a new artistic aesthetic defined by the cognitive difference of neurodivergence.


WORK: DYSPLA_touch
is an intimate XR installation and publication exploring the 'narrative of touch' from the perspective of a neurodivergent (ND) woman, specifically exhibiting traits of High-sensitivity and Tactile Synesthesia. The experience intertwines narrative and human-to-human haptic sensation simultaneously within a VR environment. There has never been a more crucial time to investigate the importance of human touch and to challenge humans' need for physical contact and the transference of oxytocin. Using ASMR techniques and Volumetric Capture, the single audience member explores the value of physical touch and human connection.
NEURODIVERGENT AESTHETIC
Neurodivergent Storymakers have a strong heritage in narrative and non linear art history and moving image/screen arts. Pablo Picasso, Agatha Christie, Steve Mcqueen, Quentin Tarantino, Antony Gormley, and Steven Spielberg, are just a few storymakers on an endless list, that share neurodiversity as their commonality, and as their genius. The definition of the Neurodivergent Aesthetic will differ from creator to maker, from audience to spectator. Depending on the neurological difference each individual will experience the world differently. The neurodivergent aesthetic is created and viewed by those who see, think and experience the world differently from the subjective norm. Click here for more information on DYSPLA's research into the Neurodivergent Aesthetic.